Thursday, October 29, 2009
I was flipping through the latest Better Homes and Gardens magazine earlier this evening, when a little snippet of text caught my eye. The title,
PROJECT 3/50
, lured me in, and I have to say I was very pleasantly surprised by the content.
Project 3/50
started out and continues to support the locally owned shops that are a life-blood to the neighborhood that surrounds them. The idea - choose three independent businesses you would miss if they closed. Make it a point to stop in these locations over the upcoming week or two and perhaps buy something. Try to make a commitment to yourself and your local economy to do this each month, allotting a set dollar amount to spend in these businesses. We could all benefit from unplugging from the insanity of our lives and stroll through market downtown one day. I used to work in the building that stands in front of our local farmer's market. Market days I had the world at my fingertips when it came to lunch, and I took full advantage of it. Since I left that job over 6 years ago, I've been to market a hand full of times. The worst part of it is that we live only 10 minutes from market. I was there only a month or so ago and the amount of change shocked me. Half the stands I remember (the old-timers) are no longer there. There are new stands offering new and wonderful items that I would not have seen at market 5 years ago.
The point of this rambling is that, had I made it more of a point to frequent the numerous local businesses downtown, and elsewhere, there would not have been any shock. There are some really exciting things happening downtown that I am only now hearing about because I haven't spent any time there. The art scene in Lancaster is flourishing and it energizes me just thinking about it! When I was a teenager, I was always haunting the coffee shops, book stores, Goodwill, and the local bands playing at the
Chameleon club
or some other location. When I was involved, I learned so much from those that had lived the life for years, and received invitations to events that. I wouldn't have even known about otherwise. It was a very exciting time in my life It seems that Lancaster is now seeing the resurgence it needs to sustain a thriving art community. This would not be true if it were not for those who make it a point to support our local shops, galleries and stands. Each of these businesses are owned by and run by people who genuinely care about the outcome of their interaction with you. They/we want to leave a lasting impression and hope that your business will come back for more in the future!
Check out their website, and read what they have to say. Our economy needs every bit of help it can get right now, and it needs to start locally before branching out any wider. I have already lost several of the small family run businesses that I grew up with here in Lancaster. Each time one closed, I almost mourned after hearing the news. These are not just businesses or stores, these are people and families that are pouring their heart and soul into what they do. The least we can do is show our support and tell them what a great job they're doing!
-Lisa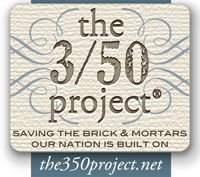 Posted by

Lisa
at 12:25 AM
0 comments


Sunday, October 25, 2009
So I started the daunting task of reorganizing and cleaning the "Studio", which is in fact an enclosed porch off of our living room. I've made a lot of progress, but I've also managed to reach a point where I am stuck. I've decided to completely flip my work surface area which will increase the amount of countertop space I have, but will involve moving items I had planned to leave alone. Even so, in the long run it will be worthwhile. I'll be more accessible to the family during waking hours while I am in the studio, and late at night I'll be able to hear any little footsteps much earlier than previously.

I expect that the space will evolve with time. This set-up will more than likely last for a few weeks and then change again depending upon my needs. While cleaning and reorganizing I've found many beautiful vintage pieces that I forgot I had and many restoration projects to work on when my own creativity levels are low. I've also located beads and components that I thought were lost forever. It truly is amazing what you find when you clean up! More later, and perhaps pictures of the finished space...
Posted by

Lisa
at 7:45 PM
0 comments